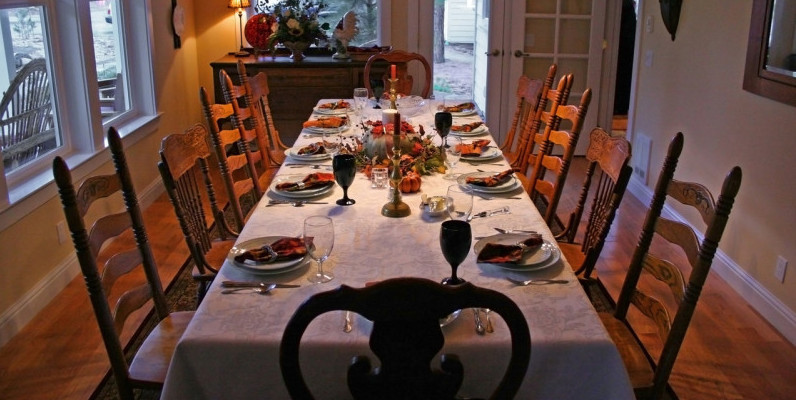 What American Thanksgiving Means to Me
Thanksgiving is America's favorite holiday. It means getting together with friends, and family for an enormous amount of rich food and being grateful for all the abundance the American way of life can offer.
I'm Canadian and live in Toronto. We Canucks don't get the fourth Thursday in November off, we celebrate our Thanksgiving on the first Monday in October and there is no mention of pilgrims. Yet in many ways "American Thanksgiving" is one of my favorite holidays, one I've celebrated since I was a teen.
To me Thanksgiving means three things: solitude, secrecy and sports.
It all began with football. As a kid in the 1980s, I was crazy about it. I played football at recess, at lunch and after school then went home, ate dinner and went to football practice. A diehard San Francisco 49ers fan I used to sneak into school band photos – I was never in a band and did not play an instrument – wearing a Niner jersey, giving my name as "R Lott" in honor of San Francisco defensive back Ronnie Lott. As soon as my family got cable I became aware that on Thanksgiving the National Football League broadcast two games. The second this information hit my brain my mind started churning. Both my parents worked and the house was empty during the day. It was time to start giving thanks American-style.
Thus, in 1982, I began what went on to become an annual ritual. Throughout October and early November, I made sure my attendance was solid. No skipping class. Homework handed in on time. Hand raised to answer questions. This way a single absence would not be questioned. The week leading up to Thanksgiving I asked my mother to buy smoked turkey, rye bread, potato chips and coleslaw, which to me was the iconic American lunch. As I recall, I had seen a detective eat this dish at a deli in a cop show set in New York City. I wanted that lunch. On Thanksgiving I attended classes in the morning but at noon I strolled through the main doors and kept on walking. I arrived at home by 12:30 p.m., just in time for the pre-game show; made myself the sandwich I'd been dreaming about for weeks, and then the New York Giants played the Detroit Lions.
Watching football is fun. Watching football when you're not supposed to – when you could actually be caught and punished for watching football – is an unbelievable high. It's the eight ball of sports viewing. The risk of being found out injected the experience with adrenaline. When the phone rang, I could not answer, if someone came to the door I had to sit very still. To an introvert the solitude was exhilarating. On television I could see happy families getting together but I was a family of one, a family getting along perfectly with itself, hoping that the Lions would beat the Giants (they did not). At 5 p.m. I cleaned the family room and kitchen erasing all trace that I'd been there. I returned to the couch and watched the rest of the Dallas Cowboys versus the Cleveland Browns.
I've missed very few American Thanksgivings ever since. Through the years I've occasionally altered the menu and I graduated from skipping school to skiving off work but the ritual remains the same: me, alone, eating sandwiches while covertly watching the NFL. Most years I am able to manipulate my schedule to accommodate my clandestine pursuit. I'm a professor at Humber College in Toronto and this year, for instance, a colleague asked me if I would be able to cover some of her October classes. I agreed, providing she'd cover my two classes on November 26.
So God Bless you America. Happy Thanksgiving. I have friends and family in the United States and on your special day I will be with you in spirit keeping sacred a holiday that celebrates family, togetherness and abundance by hiding away alone eating deli meats while watching the Eagles play the Lions then the Panthers play the Cowboys followed by the Bears playing the Packers.
I'm grateful for life, liberty and the pursuit of smoked turkey on rye and the National Football League.
Comments
Leave A Comment